DETAIL
Kesennuma, Voices. 7
"It's this time of the year again." It's a inside joke among the members of "Kesennuma, Voices". We drive 7hours from Tokyo every year between Christmas and New Year to shoot a documentary in Kesennuma, Tohoku region of Japan where the Great East Japan Earthquake hit in 2011.
Yukihiko Tsutsumi, a very well-known TV/film director asked my bother and me to join his project after the Great East Japan Earthquake because my father is from Kesennuma and Tsutsumi-san has shot several films and TV dramas in Kesennuma.
At the time, we were puzzled how to react and what we can do for the people in Tohoku because we lost our aunt in tsunami ourselves. Tsutsumi-san decided to gather and record the voice of Tohoku region. My brother and I are born in Tokyo, but we feel connection to Kesennuma, and that is what most of Japaese people felt at the time. I have friends in Tohoku or have visited Tohoku and liked it, or whatever the reason is, we wanted to do something but didn't know what we could do. So, we decided to go and see what we could do and talk to people. Every year, we interview the same people, shoot a progress of reconstruction at the same spot. On top of it, we will make a musical about 1960's Kesennuma this year when Kesennuma or Japan in general was radically changing. We find similarities between 60s and now because there was Tokyo Olympics in 1964 and will hold one in 2020 again. But I am personally interested in finding out what is underneath it all.
We have been doing this for 7 years now. Parts of Kesennuma have changed, some haven't. It is the best way to see the progress of reconstruction with my own eyes, and I reflect myself during this time, so it has become very precious work for me over the seven years. Thank you for the good time, Tohoku, and please visit Kesennuma when you have a chance! It is a very good place for food, onsen, and warm people will welcome you.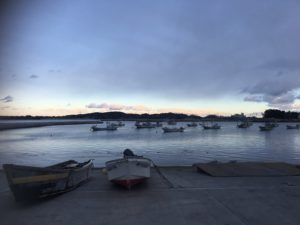 毎年震災以降、『SPEC』、『ケイゾク』『TRICK』などで知られる堤幸彦監督と『Kesennuma, Voices.』というドキュメンタリーシリーズを気仙沼で撮り続けている。今年で7本目だが、復興の進捗を自分の目で確かめる意味も含め大切な作品。
今年は仕事で忙しく気仙沼に足を運ぶのはKV6の上映会以来という具合で、街の状況がまだあまりわからない。それに加えてこの大寒波… 晴れたり雪が舞ったりで心中穏やかではない。変わらない気仙沼の人の優しさに支えられながら撮り続けている作品。今年も気を引き締め撮影中。

来年は気仙沼でミュージカルの上演を行う運びになり、3/3、お時間のある方は是非気仙沼へ!他にもダンス公演とかやりたいなぁ…と思っているので、何か考え始めよう