DETAIL
Film: "Sekigahara"///『関ヶ原』見てきました!
I found time to go see "Sekigahara" last night. It was late night show, and it was great since there weren't many people in the theater. I had my space and really indulge myself in the film. And I had hard time in this shooting but it was totally worth it.
Mitsunari was portrayed as an honest man, who had a vision of peaceful world. Not a typical Mitsunari image, which is more stubborn and annoying man. Also Ieyasu, who is a winner of the Sekigahara Battle, and an opponent of Mitsunari, is depicted as not only calculating but also charming. The relationship between Hatsune and Mistunari is subtle unlike many Japanese films and the scenery is beautiful. War scene is truly stunning and exciting.
Please find time to go see it at the theater. I am playing Hide Ukita, a vice admiral in the West Squad, same as Mitsunari.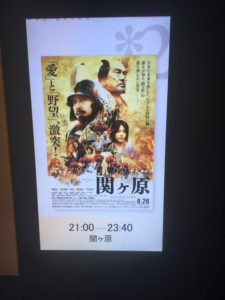 『関ヶ原』見てきました。個人的にとても大変な現場で悔しい思いも沢山したのですが、参加できて本当に良かったと思える作品でした。宇喜多秀家役として出演させてもらっているので、是非劇場で見てやって下さい。
三成と家康は大胆に描かれ、両役者さんのキャスティングの妙と言いますか、今までにない三成像があり心が熱く引き込まれ、家康には計算高さだけでなくチャームがあり憎みきれない。三成と初芽の関係性は繊細に描かれベタベタした嘘くさい恋愛ではなく心にさざ波が立ちあがる。実景は素晴らしく編集で贅沢に使われ、合戦も大迫力。芝居もタイトなので僕には丁度良いのですが、年配の方には少しテンポが早いかもと感じる程でした。
より繊細に大胆に。感度を高めて日々生活。